So for 3 weeks we've been looking for SPX 2750 – 2870 and we're 3 sessions now closing above 2750 and with running sell divergences, disparency of indexes and due to begin earnings this morning with JNJ, JPM and WFC the main suspects.
SPX has 2 clearly drawn out paths in this wave-c of the BIG BEAR B wave:
run the sell divergences like in JUN-JUL 2019 and JAN – FEB 2020 and melt right up to 3113 with 2940 the next main pivot above 2870 needing to be closed above; or
dip back for the 23.6 – 38.2 of the 627p rally for 2671 – 2579 before moving higher which a close below 2750 is the only way this becomes probable which will require a gap down overnight under SHAQ @ 2729
There are EQUAL ODDS (50/50) for which path is chosen & I see NO WAY of dipping -2641.

With the OPEX PATTERN at risk, there has never been a FAILURE for a Higher High of the Month although there have been 3 DOUBLE TOPS which still strongly suggests we're due for +2815 this week whether we get a dip or not.

SPX 5Day & Entire BOUNCE
Internally, yesterday legitimized last week's record outflows with internals such as $TICK & $TICK/Q in complete "big boyz have left the building" mode while sucker retail was left to chase NFLX +385 and AMZN +2050 on the LOWEST VOLUME QQQ/NDX session since FEB 20.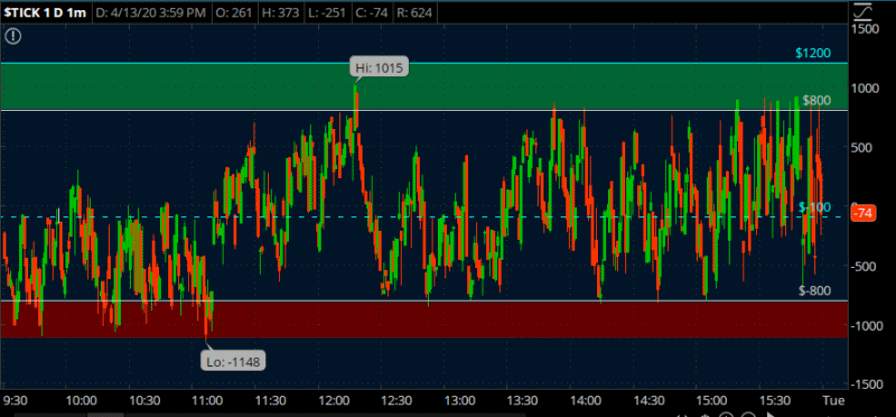 Where we've come to on QQQ is by no means an anomaly, having retraced the 50.0 of the drop @ 201.02 as had SPX @ its 2792.69 on Thursday.  But from a health POV and this mini BEAR FLAG showing on the 1hr, the abundance of SELL DIVERGENCES on both the index, the futures, the etf and the individual names involved simply do not justify a reason to chase the LONG when a dip is the highest odds setup.
The NDX and all of its tradeables (NQ/QQQ, etc.) The NDX remains the LEGS of the market (as it was in 2019 and 2018) while the DOW and RUT are the RIGHT arm and LEFT arm.   It has closed 3 consecutive sessions above the 200d MA now and the dropping 50d MA wont be DEATH CROSSING until we get into BIG TECH EARNINGS at the end of the month.
MFI, Keltner midpoint, fib resistance, techncial overbought with sell divergences on every time frame under the Daily, and overly bullish MACD all lean towards the DIP before HIGHER pathway, but the requires FAAANG to be involed.
When it is a real BULL MARKET – this all would look normal from a technical POV, but this isn't a BULL MARKET.
QQQ for 208-209 would be the best case scenario for a full OVERBOUGHT and would align with the OPEX PATTERN play for SPX +/= 2818 so it remains PAINFUL and makes a case for all of this move off the MAR LOW as a wave-a, b, and currently completing c for the WAVE-A with WAVE-B (a close under 178 negates this) due from BIG TECH EARNINGS end of the month – start of May.
There ARE SELL DIVERGENCES everywhere, but without a close under a previous low, the NO SELL SIGNALS will continue to be algo driven for higher grinds and make that 208-209 an EOM target which would force the low side of SPX for 2940 +/- 20p.
In Summary:
The view is still UP nd for the MINIMUM of an OPEX PATTERN completion for a Higher High of the Month this week whereas the DROP still looks best for timed with the BIG TECH EARNINGS reports which doesnt start until the week of MAY 1.
Short term (intraday) there are multiple pathways possible which could be a BIG DROP on a headline then rally for the OPEX PATTERN or a continued grind using the unused FAAANG before rotating from them into the DOW/RUT,    PRICE has not invalidated the CLOSE UNDER 2750 despite seeing SHAQ yesterday so the plan remains SPX/SPY 2818/281 and the Sunday night FUTURES prints above last week Thursday for targets.
Big Boyz SELL whereas Pension Funds collect dust so the selling seen on $TICKs was Big Boyz who are usually days if not weeks ahead of the move so its a HINT, but not a GO BIG SHORT indicator.
Dip into 2600s and then have a good solid OVERSOLD 4Hr for the bounce higher is what I would prefer to see for the NEW LONG rather than trying to jump into the slosh of these bearish technicals atop of bullish prices.   Seeing AMZN dip under 2000 would be a way to show that