Friday was an EPIC scene in the chat room with 5Bagger, 10Bagger, even a 20Bagger in the air, up for grabs, as the focal point (Nasdaq Tech) hit almost every every one of our upper targets.
AMZN hit 1452.38;  FB scraped pennies under 161.56;  NFLX took it into 295.71 in the final minutes;  QQQ broke 160.16 and just failed to hit 162.16;  IWM missed 153.19 bu 0.09;  BABA tagged 185;  NVDA took to 234 as programmed to;  GOOGL took it to the house by tagging 1047.80; and SPX took to our 2647 magnet like Refrigerator Perry on a rush into the goal line which could be stopped until just 3points shy of our "lucky high target" @ 2662.
For the duration of last week, ES & SPX based well off that 2605 and Friday's movement on the ES to the 2nd "proof of life" line @ 2653.5 before settling on the 1st one @ 2634.5 and the NQ reclaiming 6588 while the YM tagged 24225 looked good and all, but still leaves A LOT OF PROVING TO BE DESIRED.
$TICK is indicating that sellers have dried up some (only two significant <-800 readings 5 minutes before the close, and nine significant  >+800 readings throughout the day) and the S&P 500 McClellan Oscillator (MO) ended Thursday at -21, up 45p compared to Wednesdaywhich, although the number of declining stocks is still more than those advancing, indicates the difference is rapidly decreasing.
SPX Daily YTD
SPX teased above the 200d SMA all week and we got to see our 1st significant decline on the VIX Thursday, but it's still above above its 20d and 50d SMAs while the SPX is, what seems like miles, a good 50 points below its 100d SMA.
All A/D lines are still in corrective mode; and not signal that the correction is over as we saw a large number of stocks hit pivotal low spots on Thursday  With market breadth improving slightly, it wants to signal the end of this correction is getting close and the RSI(5) on the SPX is trying to say we see some higher highs compared to last week as we head into Friday'sJOBS Report.
SPX BIG VIEW (full image link)
– line detail below
The DARKENED RED lower trend line is the main support level which on my extremely detailed charts aligns to roughly the MAR 27 2017 lows:  2322
The DARKENED BLUE support line is that which comes off the FEB 2016 Lows (1810) and the Election Lows (2083) and aligns roughly to the 38.2 retracement from the FEB 2016 Lows to 2467
The DOTTED BLUE trend line is your AUG 2016 Highs to MAR 2017 Highs which supported throughout mid/late 2017and is just above 

Friday's

 lows @ 2615
The DARKENED GREEN resistance line is just that – the trend line across the 2013 – 2015 highs which, as we covered in late JANUARY – had been broken above and screaming for a BIG DIP
SPX Closer HOURLY VIEW (full image link)
– levels detailed and breakdown below
As you can see from the 2 week HOURLY chart provided from finviz for cleanliness purposes, we've been in a BEARISH DECLINE since MAR 13th's 2802 high, yet, when analyzing that DAILY CANDLE BODY from the FEB 9 Lows to 2532, that 2585'ish (which also equals the -10% from ATH line) has based and looks like a "FALLING WEDGE" Pattern for now.
Our MAIN RESISTANCE ZONE takes us back to DEC 2017 with:
2694.97     DEC 18 High
2673.64     2017 Close
So Here In Lies The Problem
From an Elliot Wave POV, this MAJOR-4 is getting complex ahead of Friday's JOBS and next week's OPEX & start of Q1 earnings season which happens to fall on Friday, the 13th – Chapter 2018.  Once this CORRECTION MESS ends, the long-term trend is still up and that the market is still in a Bull for a MAJOR-5 capping off before the Bear market which will have to wait for the JAN HIGHS to test/break which is probably 6-12 months away.
Despite Thursday's rally, the monthly, weekly and daily charts ALL look weak with most Technical Indicators suggesting SELL on all three time frames.  Align those signals with that view above of the SPX BIG VIEW lower support lines and one can see why the symmetry targets on all three time frames (monthly, weekly & daily) point to us seeing the FEB 9 2532 LOWS or better: 2510-2450
Of the 500 stocks on the S&P, many are currently below their RSI(14) 40% levels, but few are above their 50d &/or 200d SMA which will need to improve significantly for SPX to not break down and seek the FEB 9 LOWS or lower.
BULLS need to see SPX close above 2675 to even entertain taking a chance into Q1 Earnings off these decent, but not all the way bottomed, lows on many big names.  Bulls will then need to see SPX 2754 for them to truly get into this properly.
So Heading Into Friday's JOBS…
Scenario #1:  40% Probability (full image link)
Heading into Friday's JOBS, we continue to use the roughly +1 improving 200d SMA as if an alligator is under it and that trend line off the FEB 9 and FEB 23 LOWS to bounce off while resisting the lower of the two resistance trend lines before breaking upward on Friday and resisting the upper one and that 61.8 retrace of the CORRECTION (2743)
Scenario #2:  30% Probability (full image link)
We use Scenario #1 into Friday, but then get stuck inside that same ping-pong zone between the upper resistance trend line off the highs and the lower support trend line off the lows as we head into OPEX – the start of Q1 Earnings and Friday the 13th – Chapter 2018.
If this scenario (granted its looking 2 weeks out) played, it would all but force the VIX back to that 16.22 and a break below it could offer the BULLS the confidence to make the move to end the CORRECTION as Q1 Earnings gets ready to really kick off the week of APR 20.
Scenario #3  20% Probability (full view link)
As the Monthly, Weekly & Daily want to suggest, we see an "APRIL FOOLS" run up to SPX 2685 only to be followed with a submergence back to 2585 for a failed support test and 200d SMA break – a sell off to the FEB 9 LOWS which fails to support and finally ends off @ the 38.2 retracement of this entire WAVE from the FEB 2016 Lows @ 2467'ish.
Should this play out, a massive "WTF JUST HAPPENED" sentiment will overcome the global markets (as they are all currently in the same Monthly, Weekly, Daily scenario) as MARGIN CALLS are issued left, right and center.
We just surpassed the MAR 27 2017 "mini correction" (-3.29% from MAR 1's 2401) date which is also the 52Wk Low on a large number of stocks (almost all of the Cheatsheets) which will call for buyers' algos to begin buying when either significant supply/demand lines are hit and/or the 38.2 retracement to the JAN/FEB 2016 LOWS are being tagged.
BEAR IN MIND that the AUG 8 HIGHS & SEP 25 LOWS was SPX 2491:  Just under theFEB 9 LOWS which equals the 38.2 retracement to the BREXIT LOWS and just above the FEB 2016 38.2 retracement. (more on that In Summary)
SPX JUL 1 2017 – OCT 15 2017 (full view link)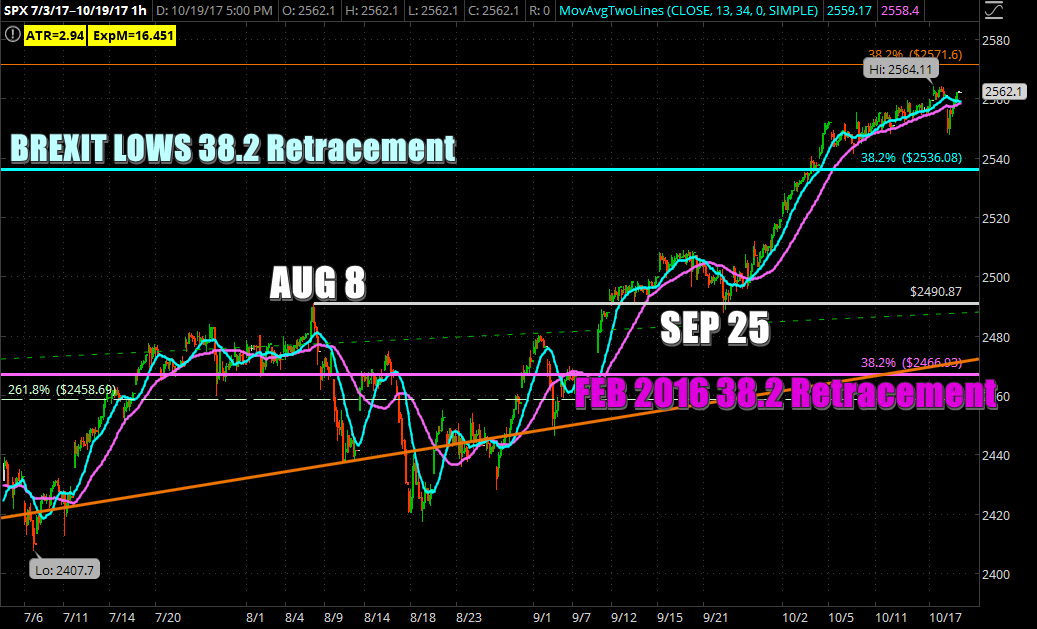 ---
In Summary:
You gotta know where you're at and where you came from to know where you're going and right now, we know we came from 2873 two months ago and from 2322 one year ago.  In between we had that pit stop we made at the end of last summer @ 2491 which, funny enough is +169 from the MAR 27 2017 LOWS and -168 below Thursday's 2659 High.
While this CORRECTION may not be over with, I still see this as MAJOR-4 with MAJOR-5 to come afterwards and retest/break above the ATHs and delay the Bear Market cycle from starting for another 6-12 months (give or take).
Most ALL what I been buying are CALLS for JAN 2019 using the ATH on the bigger names with a few random Q1 Tech earnings (NFLX & AMZN) and those JUN 2018 CALLS on C.
With how this all looks right now heading into this week Friday's JOBS REPORT, it's telling me to get SHORT @ SPX 2685 and SHORT AGAIN is 2585 breaks with the focal point 2491-2460.  This isn't yet a SOLID STRATEGY with the 3 possible scenarios, but if SPX can get back upward to 2674 and/or 2695 this week, the market is going to need to show SIGNIFICANT SIGNS OF IMPROVEMENT on multiple indicators and individual stocks to not BLINDLY GET SHORT up at those levels for a pull back to 2622 2605 as a minimum.
How To Find Your 23.6 & 38.2 Retracement Level
Virtually every stock & ETF out there bottomed on 3 significant dates in 2016:
JAN or FEB 2016
BREXIT

NOV 4

 or Just After the ELECTION
The market/stocks are all well into the #2 & #3 with the 23.6 of #1 showing on many (I mentioned this in the FB Alert last week (153.37) and we saw it 

Friday

 on that NFLX entry 0.02 from hitting it @ 275.88).

How you find it when you chart is simple:
Pull up your stock and customize your date to show JAN 1 2016 to Today (a 2 year chart wont show it cause we passed JAN & FEB already)
At the JAN or FEB LOW, draw your line from that to the ATH and have the 23.6 & 38.2 show
For #2, you can do this off a 2 year chart since BREXIT was on JUN 27 2016 and will show there.  For #3, the Election, you'll again need to go in and cutomize your view to show you roughly OCT 1 2016 to Today to see it.