AAPL BEATS (chart below)
ALL EARNINGS (essentially) ARE OUT NOW
The FED MEETING results come out @ 2PM EST Today
Friday, we get the APRIL JOBS REPORT…..
Not being a BEAR "pounding the table" or trying to persuade anyone from playing the bounces in any way, BUT ALL ROADS STILL POINT TO SPX 2585 (or LOWER).
Yesterday we added a bit more bit more downside than anticipated (SPX 2625 instead of 2635), but it FAILED TO CLOSE BELOW 2635.  Yesterday I wrote how a  break below last week's low close – SPX 2635 – will be a very good sign of probable path 2 or 3.
Being as OVERSOLD as we were on the large time frames and seeing that sudden buy algo kick in off the 2625 Pivot (which is a #SnapDickPicLength away from the 23.6 retrace to the FEB 2016 LOWS), the bounce up to fail just before that main APRIL support/resistance @ 2657.36 was not a surprise.
In Summary:
To try not to kick a dead dog, I'll show path 1-3 below, and assuming minute-b of minor-d of intermediate-d of MAJOR-4 bottomed yesterday @ SPX 2625 (uncommon 78.6% retrace), minor-c can target 2695 (c=a) to 2730 (SHAQ!) (c=1.618x a); with the latter being preferred.
Again, a break and close over SPX 2685 is needed to confirm this count.
IF price stalls below SPX 2685 at around the 2017 Close Price: 2673.64 + /-5 (critical level) and drops below 2625 then SPX 2580 to 2450 are next (Path 2 & 3).
DO THE MATH:
For SPX to go revisit SHAQ! up at 2729, we'd need to add +104 from yesterday's lows.
We ran +164 from APR 2 – APR 18 off the 2553.80 tagging of the 200d SMA and have been in this declining zig-zaggy channel with a multi-top @ 2683 since breaking below it on #420.
With EARNINGS ALL OUT, the FED NEEDING TO BE DOVISH and the FRIDAY JOBS REPORT NEEDING TO BE PERFECT…..  where will this +100 come from for Path #1 and how long will it take…
SPX Path #1
SPX Path #2
SPX Path #3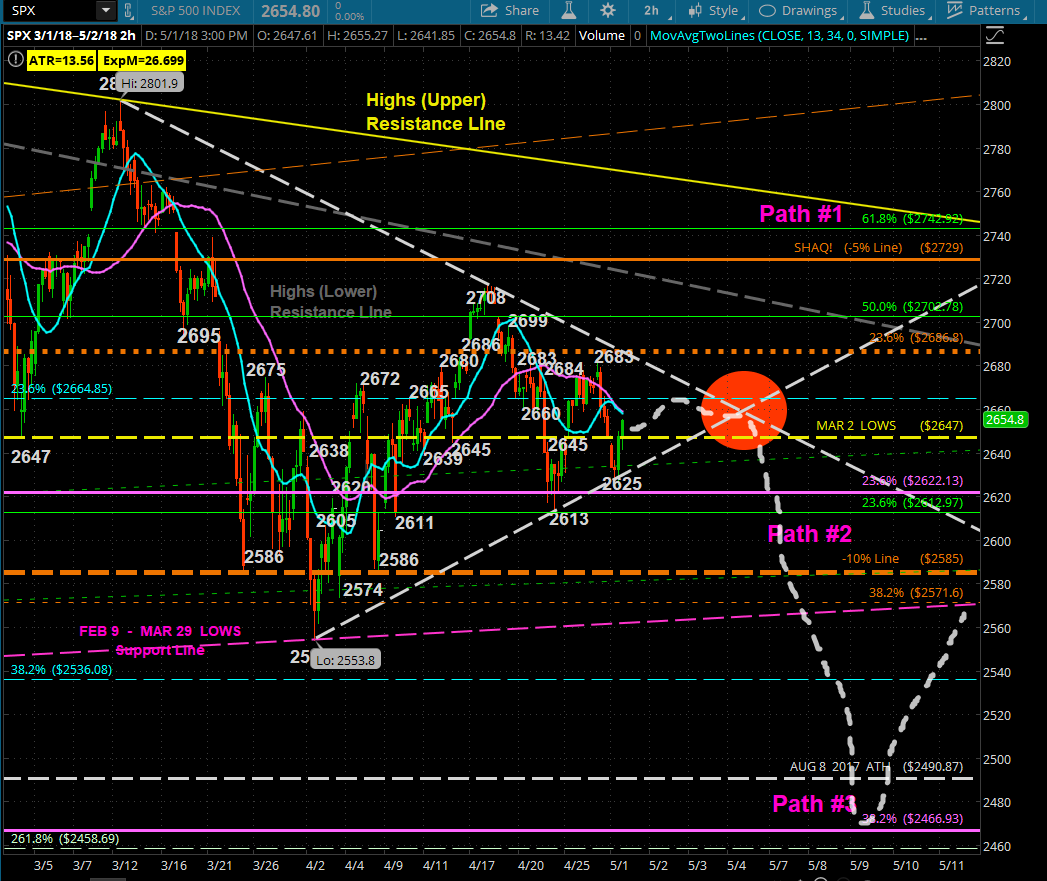 ---
AAPL:  the 180 Multi Top
As I sent out at the start of FEB the projection of AAPL ending CYCLE 3 after the +90 run from the AUG 2015 lows, last night's earnings run up to 178 support the multi-top view as it did at the end of CYCLE 2 in 2015 @ 133:
AAPL 2015:  CYCLE 2 Top
The DOUBLE WEIGHT of AAPL (on the Nasdaq & DJIA) will be critical for that 180 multi-top to prove the top of this CYCLE 3 or if it can allow for some leeway above.  The YM/DJIA broke below the -10% line yesterday and is trying to support on it overnight here as the EU has just opened.
AAPL back to / under that 174.33 will prove to be pretty impossible for SPX Path #1 to happen anytime soon.