I haven't singled out TSLA since DEC with the TSLA +370 SCREAMING "SHORT ME" Alert, but boy did that one pay off BIG.   Many have been playing this recently, so the hit on our Friday target for 210 and the "thrown out" trash from the BIG FALLING WEDGE has both 180 targeted and a BIG BOUNCE likely to come from that.
TSLA 5 Day
On all the drops in the recent weeks, I kept watching TSLA use that 2014 – 2016 Highs line to support upon, but that finally FAILED Friday and it went 0 – 180 right to and through the 2017 LOW @ 210.96.
WIDER VIEW:   TSLA finally got thrown out of that Falling Wedge pattern:
Down below @ 180, there's MASSIVE price support and that's where TSLA should most likely find its footing and base for a week or so before the "dead cat bounce" into summer – fall targeting 275 – 300.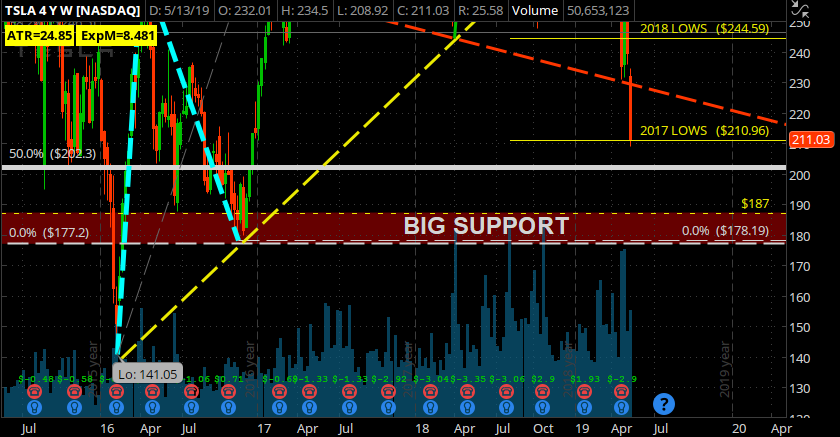 When the bounce does attempt to begin, 247 is going to be an issue, but that's a trade best for shares rather than options other than weeklies and for daytrades until we see some reason to hold overnight or longer.
From a Rising Wedge into a Falling Wedge, #FundingSecured got cut in half