So we got our dip as planned and saved breaking 3300 yesterday for what was RISK RIDE to 3317 knowing the support its provided since gapped up Friday last week with ES 3325 the start of the week Sunday night:  Both produced into the close yesterday after perfectly filling the 1 of 18 unfilled gaps below to fill the 1 and only gap above.
With the overnight continuing to use the NASDAQ ahead of the big names reporting next week and the FOMC meeting, ES has returned to that 161.8 retrace pivot of the WAVE 1/A DEC 2018 LOW – MAY 2019 HIGH @ 3336.5 which provides SPX with 3333'ish.
3337.77 is so damn pretty that it should be left FOREVER as the ATH spoken about by our grandchildren and their grandchildren, but only a BREAK and CLOSE UNDER SPX 3316 can play that scenario out.
3340+ with that likely chance for 3370 +/- 5p on Monday remains plausible with the week starting @ 3325 on ES and 3321 on SPX.   Avoiding a RED Weekly candle is what we would prefer to happen so as not to waste one (we tend to get 2 consecutive MAXIMUM when we dip) so play Friday if you choose, but the meat and potatoes of the week was provided with our BTFD yesterday and the SHORT 3336 Tuesday.
————————————————————————————————
NFLX Bullish because of the CoronaVirus?  #BiatchPlease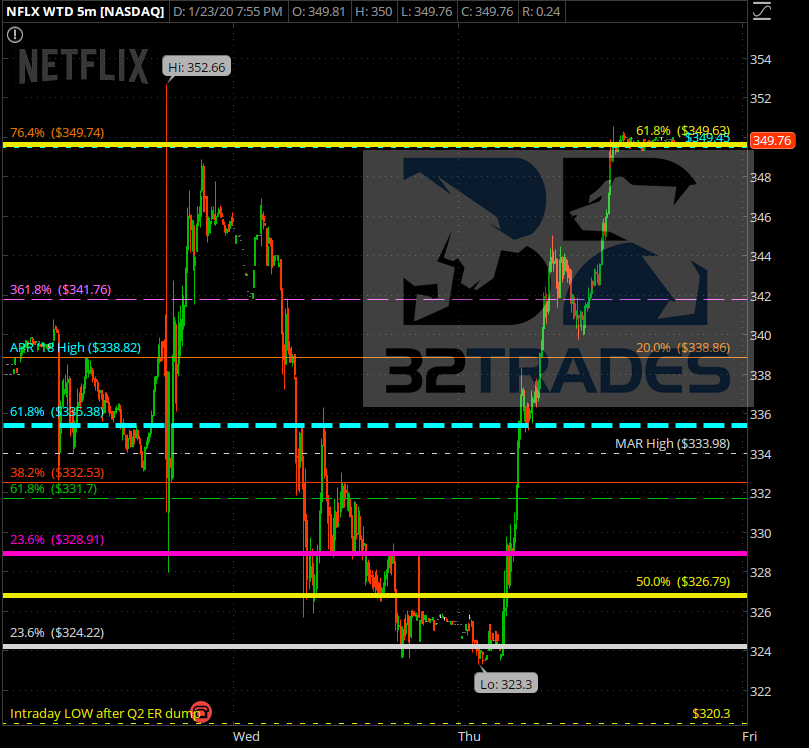 NFLX -340 is HOME 
———————————————————————————————–
New BEAR CALLS Set Ups:  www.32trades.com/daily-updates/bear-calls-plays/
WM, CTXS, MNST favorite additions;    TDG, GOOGL, LLY, SHOP, ADBE still collecting
WM
buy 21st Feb $120.00 Call    1×100    $3.00    $-300.00
sell 21st Feb $115.00 Call    1×100    $6.90    $690.00
Total    $390.00
CTXS
buy 31st Jan $130.00 Call    1×100    $0.95    $-95.00
sell 31st Jan $125.00 Call    1×100    $4.20    $420.00
Total    $325.00
MNST
buy 31st Jan $67.50 Call    1×100    $1.00    $-100.00
sell 31st Jan $66.00 Call    1×100    $2.15    $215.00
Total    $115.00
———————————————————————————————–
Anyone want or need a chart, PM me in chat or email me
I'm gonna be working on the 250 massive S&P names reporting earnings next week along with the FOMC ramifications with TLT and /UB in BULLISH cup/handle formations which, with GOLD, could be screaming I'm right and 2+2= 🐟 and JUN – JAN +608p SPX move is C = A of a Big Bear Rally
Have A Great Weekend and avoid eating Bat Soup if possible