DUBAI, March 17 (Reuters) – Iraq's oil minister has called for an emergency meeting between OPEC and non-OPEC members to act immediately to help bring the oil market to balance, according to a letter he sent to OPEC on Tuesday.
In the letter seen by Reuters, Thamer al-Ghadhban asked OPEC Secretary General Mohammad Barkindo to "urgently achieve" extraordinary meetings for the OPEC+ group to "discuss all possible ways to come up with serious and immediate actions" to rebalance the oil market and mitigate the current deteriorating situation. (Reporting by Rania El Gamal; Editing by Sandra Maler)
/CL From the FEB 11, 2016 BOTTOM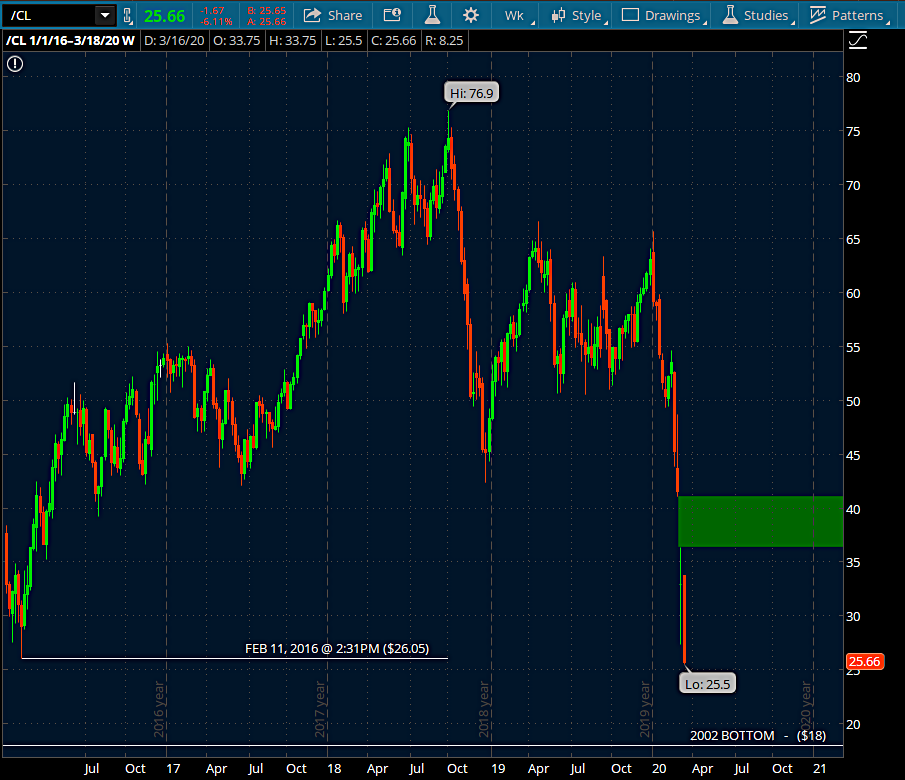 What does this mean?
I'm not going to try and predict the future (DaFaq I'm not 😎), but just before 7AM today, SPY bottomed @ 235 which as I sent in the earlier email SIGNALS SPX ~2350….
This service began in JAN 2016 as a service to provide the large number of loyal followers I had from AimHighProfits to teach OTC traders how to trade options on real companies rather than fake pump and dump scams and many of you are still here.  Those here might remember when my, at the time protege, Ryan took off his SPY PUTS trade @ 2:30PM on FEB 11 for a 3bagger as we used that time frame with 9:50 religiously.
1 minute later, the announcement came that OPEC made an agreement and CL bottomed @ 26.05 along with SPX @ 1810.10….   aka we NAILED the Bottom
Friday is here and it is already due to begin as a wild unknown.  We tagged dropped below 181 yesterday for the first time since the Aug 24 crash and saw a massive recovery late in the session, almost exactly at the daily 2:30 alarm, when a tweet from Wall Street Journal OPEC correspondent Summer Said stated: (link)
With /CL @ 17yr lows – BELOW the FEb 2016 LOWS and just above the 2002 BOTTOM @ 18….
With /ES & SPY @ that 2350/235 for what would essentially be SPX DOUBLE BOTTOM on DEC 2018 LOW…  we COULD be at the WAVE BOTTOM if not ALL of the CORRECTION.    For those unable to zoom out on a SPY/SPX chart from FEB 2016, we TOPPED OFF in JUN ~to the 2015/ATHs resistance 2120 before BREXIT and then the 🚀🚀🚀🚀 to new ATHs in the Summer of 2016 prior to the Election roll down from AUG – NOV.
Not saying IT'S A REPEAT, but the table is undoubtedly set for it.
CORONA VIRUS FEAR MONGERS:   China is ~90% back to full capacity
What the /CL CRUDE drop looks like on USO: