Very little to add to what we already know which is we're due to be chopping still inside this 2750 – 2870 as we head into the BIG NAME earnings next week.  Yesterday produced the smallest intraday range on SPX (40.34p) since FEB 21 where SPX spent the day between 3360.76 – 3328.45 after posting the ATH 2 days prior (3393.52) when COVID was only a China thing.
Stimulus checks are in and being placed into AMZN, TSLA, NFLX, AMD and SPCE from what I saw yesterday while OVERBOUGHT overboughtness is beginning to smell like a nasty week ahead when earnings start coming is due to be seen.
Until then, the GAP DOWN yesterday fills at 2845.75 and with JOBLESS CLAIMS, death toll rising, foot shortages and whatever else is real (like restaurants due to see decreased seating along with precautionary requirements for table settings coming) being BULLISH into BIG TECH earnings, the path of least resistance remains to the UPSIDE into that FEB – APR 2018 LOWS line which is now nearly aligned to the JAN 2018 HIGH @ 2872
The "GAME" being played having already proven the OPEX PATTERN is for the 🔺🔻Weekly Candle using SPX 2782.46 & 2789.82:
– Monday's OPEN and Friday's Close
SPX WTD
With it still TECH TECH TECH TECH ahead of 🐒🏈 earnings, moving out of China and unemployment numbers that mean squat since we're "re-opening the economy sooner rather than later", the TECH PUSH into earnings many of you might have forgotten about in JUL 2018 is here again.
So to clear things up some for those who forgot about the -42p drop on FB in JUL 2018, AMZN above 2025 volume, NFLX above 385 volume, TSLA that cut 1/2 their staff and can't pay rent, or CMG that makes money selling food they cook to people who come and order avocado whatever….   here's what OVERBOUGHT overboughtness looks like:
AMZN
NFLX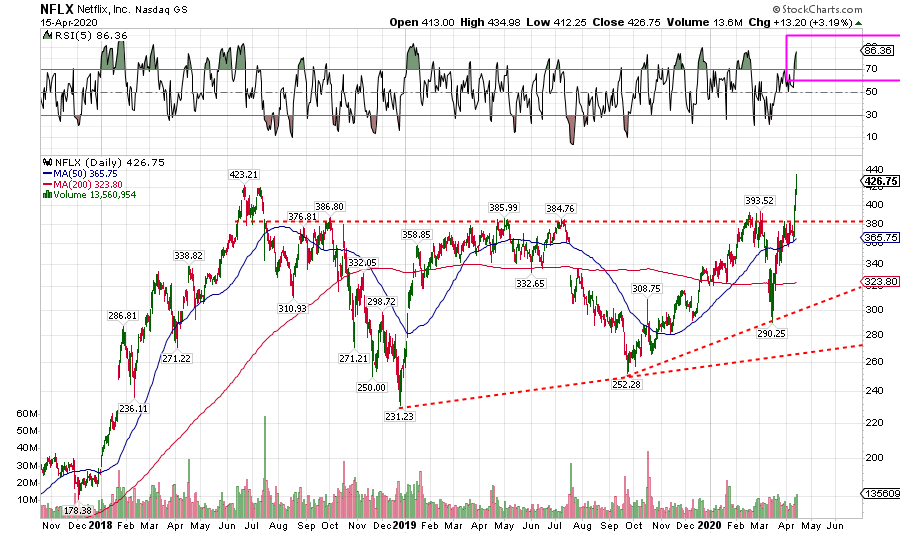 TSLA
CMG
PTON, ZM, WING, SPCE, NVDA, AMD etc.etc.etc can be in this group as well with LULU, ROKU and 85 other reality views that simply aren't SELLING until earnings come out.
In Summary:
If you are something REQUIRED for survival, your stock is abysmal;  if its DISPOSABLE INCOME dependent, your stock is hotter than hades
RUT and NYSE are in terrible shape whereas NASDAQ TECH continues to prove the world is never going into recession ever and the new Apple iPhone 17 has a backlog of orders since its due to be manufactured in Sweden by employees who make $29/hr after the Company moves manufacturing out of China.
This is a MASSIVE WARNING SIGN about being a BLIND BULL LONG on anything.
Short-term, SPX avoiding any close under 2750 continues to point for 2870 before we go talking about 2940 and 3113 so stop before you start about if MAY 1 SPY 300 CALLS are good here.  I still say this is a COMPLEX BIG BEAR B and when the 💩hits tech, it hits it when the RUT & NYSE names are ready to get GOOD NEWS about the COVID LOCKDOWN so that it can rotate from one to the other and no one sees anything.
SPX 2640-2670 is still what I need to be advance planned for a LONG entry and with an OVERSOLD 4Hr to go with it.   The month of April began with an OVERSOLD 1Hr and our already BUY VIEW for 2750 – 2870 and since APR 1 we have yet to even skim the upper level of OVERSOLD on the SPX 1hr – another "hint" to me with the VIX in the 40s that this is a TO BE SOLD OFF Rally
Today:
8:30 BUILDING PERMITS/HOUSING STARTS
INITIAL JOBLESS CLAIMS
—
10:00 PM: CHINA Q1 GDP, Industrial Production, Unemployment