Message me in CHAT any individual stocks you have or are watching for
TERMINOLOGY:  ES = S&P Futures; YM = DOW Futures; NQ = Nasdaq Futures
---
NOT MY FAULT OR PROBLEM IF YOU AREN'T:

The  10yr is  @ 1.234
SPX JULY:
YTD (Close) 2021:   +16.75%

HOD Off MAR 2020 LOW:   +101.30%

YoY:   +34.89%

Month of JULY:   +2.20%

---
.
THURSDAY'S 4419 – 4412 GAP IS FILLED OVERNIGHT
SPX 4419 – 4412 GAP FILLED OVERNIGHT

WHAT HAVE YOU NEVER FORGOTTEN:    ALGOS NEVER LEAVE A GAP ABOVE UNFILLED

SPX 4383.72 100% LINE IS THE DIP SUPPORT (4383.72) CONTINUES TO BE THE PUTS BUY ALARM WHILE ABOVE

BEARS NEED -4372 while 4369 / SPY 436 1st SUPPORT attempt;

4330 / 433.3 2nd and starts CONFIMRING RALLY IS OVER

AMD:   MUST BREAK -100 BY TUESDAY AFTERNOON

DROP ZONES I AM TARGETING AFTER TECH EARNINGS EOM @ BOTTOM of Watch

1 UNFILLED GAP ABOVE FILLED OVERNIGHT

WEEKEND UNFILLED GAP BELOW FILLS @ 4395

3 UNFILELD GAPS FROM JUL 21, 22 & 23 START -4372

14 UNFILLED GAPS THIS YEAR

21 to OCT 30
---
 SPY +440 IS YOUR BUY PUTS ALARM

🦄 SPY BEARS MUST KEEP RESPECTING 438 FOR NOW

SPY -436 STARTS THE DROP GAME
There really isn't anything to add to what is already well known.
ALL MAJOR WEIGHT IS REPORTED & GUIDANCE 🔻 ISSUED
ALL MINI WEIGHT NOT SNAP MISSED
THIS IS WEEK IS A TON OF IWM SMALL CAPS & ROKU/UBER/SQ
🔵 IWM +224.22 BULL TRAP IS UNCHANGED
30day
Daily
So we've made it 7 months of the year without a -10% pullback on SPX and are now 10 MONTHS (SEP 25) since SPX was -10% from its ATH
Every BULL I know has the bounce off the JUL LOW when we went negative for the month ahead of earnings and your last BTFD CALLS table pounding alert as the IRREGUALR WAVE-B of the 1st Corrective Wave targeting SPX 4150 – 4050
PRICE trumps all indicators and until that LOW of last week and that 4369 which proved in early JUL is broken and closed under, we're washing windows here to remove the spit of the to-be evicted 12M people ahead of Friday's JOBS Report
AMD 1hr SELL DIVERGENCE AND BEARISH MACD
AMD 2hr SELL DIVERGENCE AND DUE TO CROSS BEARISH MACD
AMD 4hr SELL DIVERGENCE
5Day
180d
I'm in AUG 6 & 13 95 PUTS from last week and YES this is a problem if we don't see AMD break back under 100 by what I'd say midday Tuesday for those in AUG 6's
From a WIDE VIEW, this is a free opportunity to shop SEP/OCT 100 PUTS for MATH using 90 & 75
SEP 17 AMD 100 PUTS closed Friday @ 3.30 and will be cheaper today
@ 90, those are $10+

@ 75, those are $25+
Technically, a hard pull back on AMD is due, but until that -100 breaks, its theat burn on PUTS

From a SIMPLE VIEW heading into this week and inventory deliveries, I expect the TSLA pull back to 675 early in the week with 630 still HARD SUPPORT for now

TSLA IS NOT CHEAP, but it's little sister NIO is and a pull back to 42.50 to start the move back to 40 and below is cheap
AUG 6 NIO 42.5 PUTS closed friday @ 0.77
NIO would need to break and close above 49 to negate a retrace back to 42-40

I'm on GLACIER all day today with Breyon, the auditors and 2 investment groups in Europe so I can't do any 1-on-1 calls today and will be active in chat through the morning session
————————————————————
It's now 10months since our last -10% correction on SPX/SPY and DROPS don't take months to do, so if you are a CALLS ONLY player like many are, sit back and let the charts do the BUY SIGNALING as you have gotten every single major wave bottom CALLS ALARM alerted here since FEB 2018
I remember when S&P 500 LAST rallied 100% without a STRONG -20% CORRECTION…..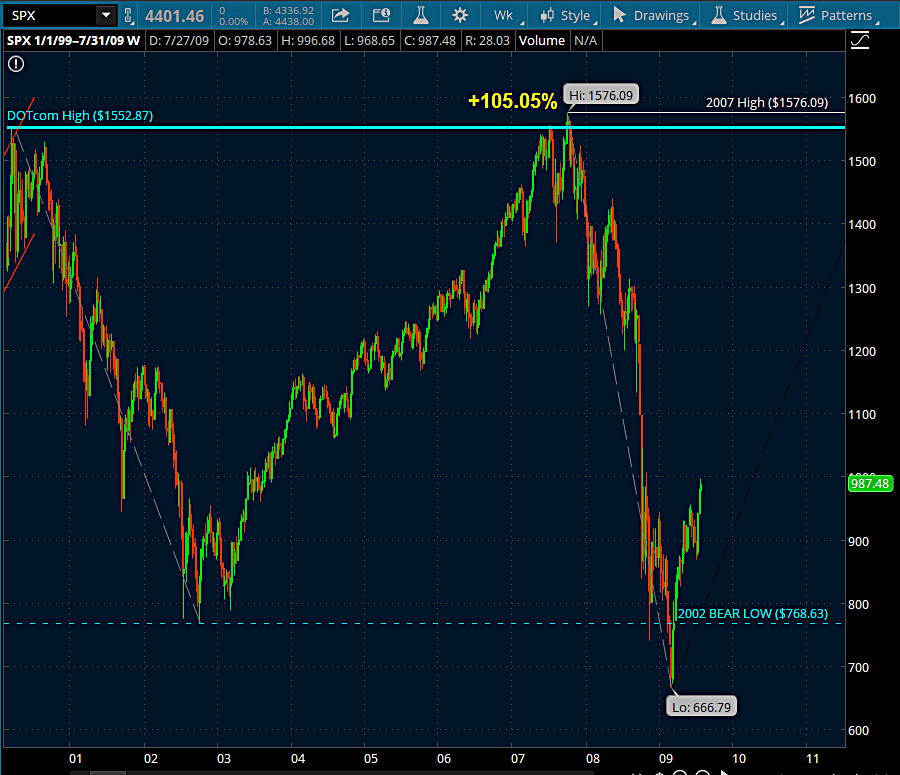 ---
After TECH REPORTS SPX Drop Zones
– AUG 6/13 SPX/SPY PUTS shoppers should stay in the 4300 / 430s
– ANYHTING ABOVE 100% LINE IS A SPX/SPY PUTS BUYING ALARM