2️⃣️0️⃣️0️⃣️ Challenge:
49 Trades OPENED; 47 CLOSED: NOV 9 – FEB 12
(+74.12% avg.)
www.32trades.com/200-trade-challenge/
The 
 10yr is  @ 1.238
SPX Friday FEB 12 data:
Overnight Gap:   -4.73
Range:   31.45
Open -Close:  +23.18
Close -Close:   +18.45
LOD > Previous Close:   -10.60
Previous Close > High:  +20.85
ATH > Close:   -0.06%
ATH > LOD:  -0.80%
YTD (Close) 2021:   +4.52%
HOD Off MAR 2020 LOW:   +79.63%
YoY:   +16.43%
---
So with the YIELD RISING and the "reflation trade" the key phrase the fintwits are using in the media, the honest truth is WE GET THE LARGE MARKET "CORRECTION" WHEN BITCOIN CORRECTS:
BITCOIN TOP RANGE ACCOMPLISHED FOR WAVE 5
5day
30day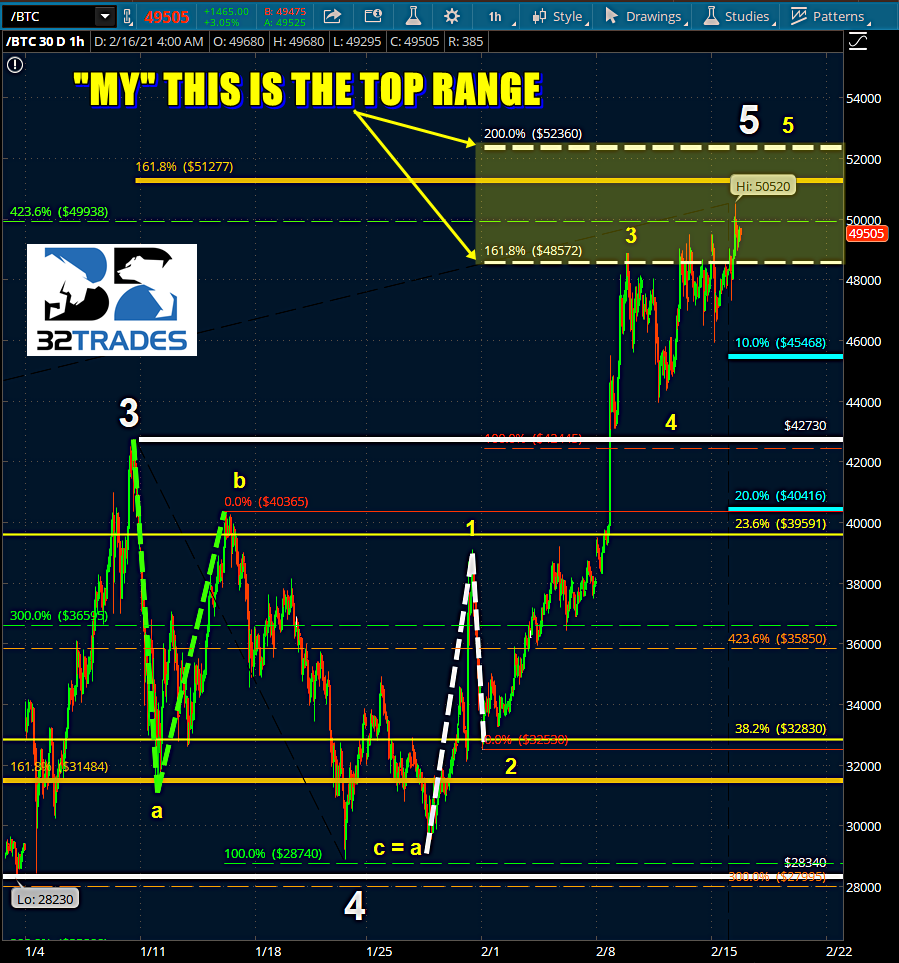 WIDE Daily VIEW
I'm a chart believer and elliot wave guided viewer and why the drop when wave 3 on Bitcoin exhausted above that 35850 with the 31484 trigger to start shorting worked and how the perfect c = a bottom formed on the dip when wave-4 produced
With everyone and their mother pumping their share price by using BITCOIN in a press release, this is the BLAME in my view for when the market corrects as the guided pathway to SPX 3980 has been unchanged all month
4 fibs in that 49938 – 52360 with 51277 the more obvious all say your topping out and the COINS collectively will see that pain trade on the dip hitting novice retail worse than old school conservative investors.
We're NEW ALL TIME HIGHS on indexes without the WEIGHT of anyone but GOOGL MSFT & NVDA which are all warning of technical setup corrections due to show at any given moment.
Even CRUDE OIL respects elliot wave guided fibonacci analysis
/CL 5day
dragged right to the 50.0 retrace from the 2011 Highs over the TEXAS ICE STORM holiday… what a CLEAN VIEW PROVIDES:
If that /CL trend line is a concern for all as the $DXY treads water above 90 and global currencies are going insane with GBP.USD nearing 1.40, EUR/USD +1.215, and what shocked me was the THB/USD Thai Baht below 30 today…
$DXY WIDE
IF that 70.698 in 2008 was the A and the 2016 103.82 was the B with the C due to/through 70.698, you best start learning how to speak Chinese and forget travelling outside the 
 since the USD won't be worth 💩
What is still lingering (for me) is the VIX FEB 21-24 UNFILLED GAP
If you go back and recall how we have table pounded the VIX 21.02 is the BOTTOM and when to get into PUTS the last 6 months, the THROW DOWN for the XTREME OVERSOLD BULLISH FALLING WEGDE pattern is still looking best suited for early MARCH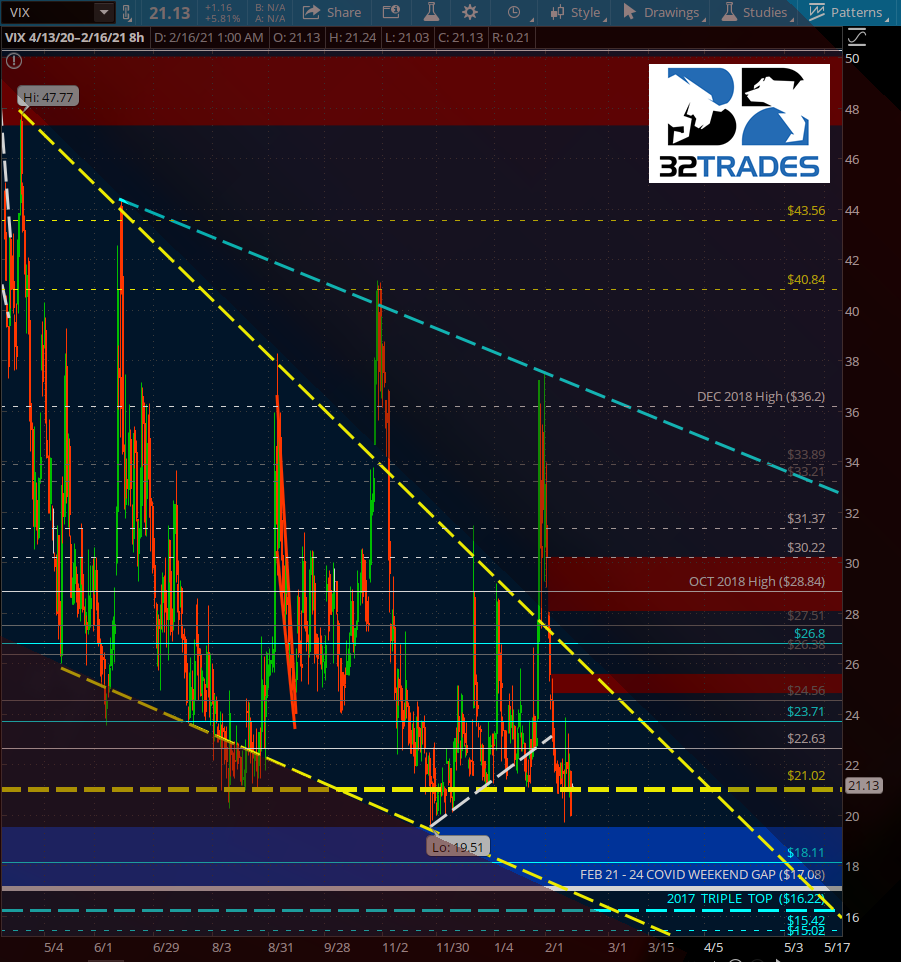 So its CLOSE and UPSIDE IS LIMITED but by no means is it go ape 💩 crazy time short despite the MASSIVE WARNINGS that are all over…
It is a PLANT SHORT SEEDS season without a doubt and you can see some sentiment shifting to that already on $CPCE with any dips under VIX 21.02 a space to look 2-4 months out for those who can and have before
This is a GLOBAL BLOW OFF TOP RALLY and daytraders will keep finding it difficult on indexes until that shoe drops and Aunt Bunny falls down the stairs
"Experience tends to confirm a long-held notion that being prepared, on a few occasions in a lifetime, to act promptly in scale, in doing some simple and logical thing, will often dramatically improve the financial results of that lifetime. A few major opportunities, clearly recognizable as such, will usually come to one who continuously searches and waits, with a curious mind that loves diagnosis involving multiple variables. Then all that is required is a willingness to bet heavily when the odds are extremely favorable, using resources available because of prudence and patience in the past." ―Charlie Munger